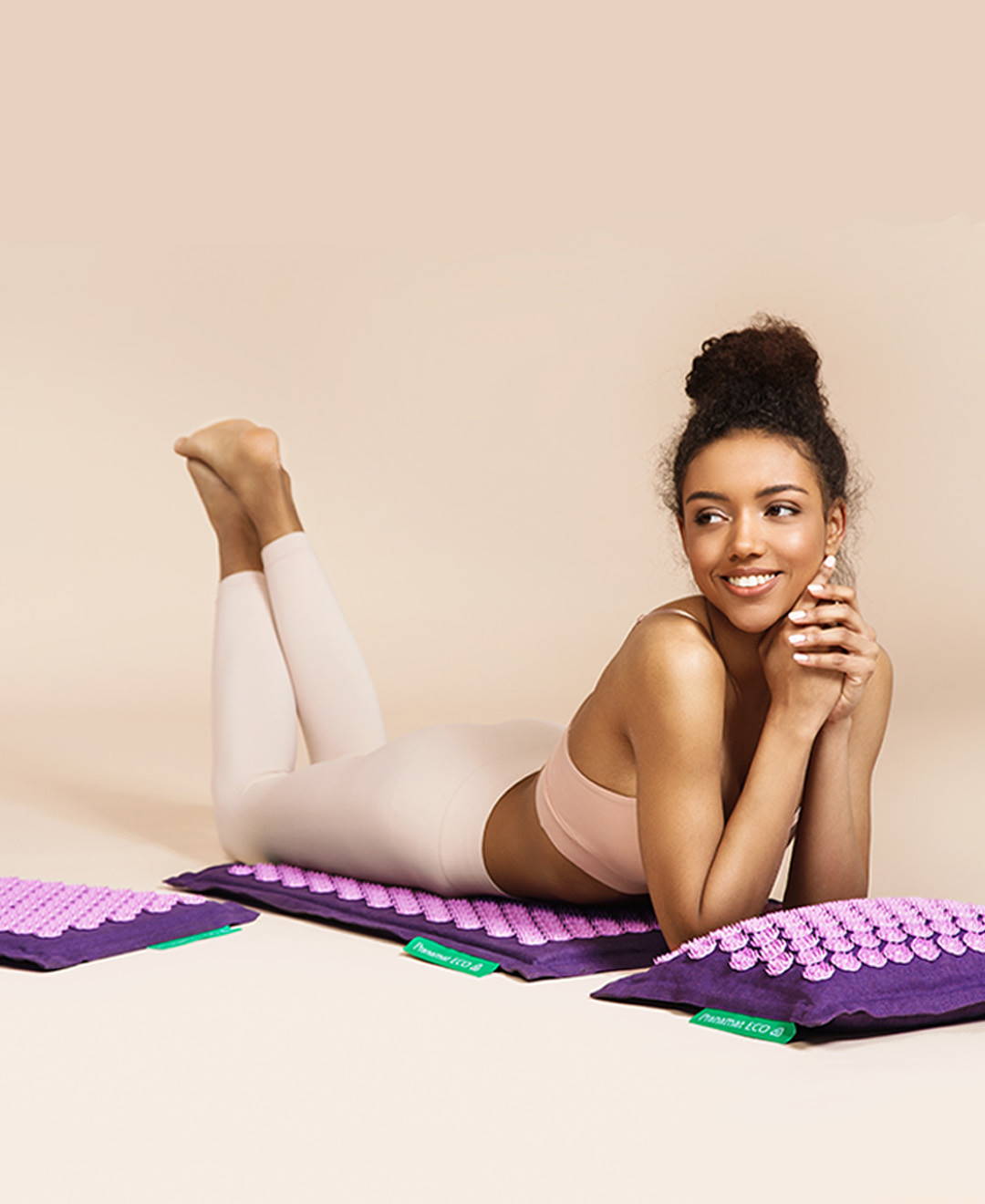 From the leaders of the global acupressure movement
Lie down and feel the difference
A pioneering reinvention of ancient acupressure practices
How does Pranamat® ECO work?
When you lie down on the Pranamat® ECO massage set, thousands of acupressure petals deeply massage your back, alleviating stress and muscle tension. Massage stimulates the release of endorphins, which are powerful natural painkillers. Endorphins block pain fast and produce a feeling of happiness and wellbeing. You'll notice results from your very first session.
This massage improves blood flow and lymphatic circulation, which supplies oxygen and nutrients to the cells. The positive effects are felt not just in the area of massage, but throughout the whole body.
Intelligent solutions. Signature design.
Patented Lotus
This high-performance massage element, in the form of the lotus, has a unique shape that deeply stimulates the skin without hurting it. This design – protected by patent number D879314 – allows for longer and more effective massage points.
Iconic lotus embroidery
Pranamat® ECO's iconic design is immediately recognizable. There are a lot of copycats out there. The signature lotus flower stitched on the back of the massage pillow is one design element that proves it's the original Pranamat® ECO.
Natural dyes and fillers
We always choose materials that are 100% safe – both for your body and for the environment. There is indeed a difference when it comes to a product that has intensive contact with your body.
Wide border
The ergonomic design includes an attractive three-centimetre border for ease of handling when holding the mat.
Welding attachment technology
No toxic glue is used in the production of the Pranamat® ECO massage set — the patented lotuses (patent number D879314) is securely attached by employing thermal pressing technology.
Supporting accessories
Being the leader of the modern acupressure massage movement, we make sure all Pranamat® ECO owners have the full support system of accessories — the Big Bag for storage, the Pillow for your neck, the Mini for your feet and limited-edition massage products in miniature.
10,000+ Pointed Spines
Increased blood and lymph flow from the very first minute of use.
Improvement of Microcirculation
Your skin and muscles receive more oxygen, so that every single cell in your body benefits.
Holistic Healing
Improved metabolism and oxygenation fights inflammation and stimulates the body's natural healing processes.
Why choose Pranamat® ECO?
Natural Materials
Made from linen, cotton, coconut fibre, buckwheat hulls and HIPS plastic. Free from toxins or harmful substances, it respects the natural environment. The box and the included manual are made from recycled materials.
OEKO-TEX® Certified
The OEKO-TEX STANDARD 100 means that Pranamat® ECO has been independently lab tested and certified free from harmful substances, and safe for intensive skin contact.
Powered by green energy
All Pranamat® ECO products are made using 100% green energy, from renewable sources.
International Awards
Pranamat® ECO has been awarded "The World's Best Acupressure Mat" and was chosen as winner for the "Wellness Innovation Award". In addition Pranamat® ECO has garnered multiple international awards such as the "WeGreen Award", "ECO Best Award" and "Live Organic Awards".
Handmade with Love
All Pranamat® ECO products are handmade in Europe according to rigorous standards of quality and ethics.
5-Year Warranty
Pranamat® ECO is a long-lasting product, made with materials of the highest quality. That's why it comes with a 5-year warranty.
30-Day Trial Period
Every Pranamat® ECO comes with a 30-day trial period, with a money-back guarantee, during which time you can return it if it does not meet your expectations.
What is Pranamat® ECO made from?
HIPS plastic
100% HIPS plastic, hypoallergenic, non-toxic and more ecological than the alternatives, recognised and approved by the EU.
Linen
100% linen, colored with natural hypoallergenic dyes.
Cotton
100% natural cotton.
Coconut Fibre
Natural coconut fibre, supportive and safe.
Which Pranamat® ECO Acupressure Set will you take home?
Choose your color
-10%
Full body Massage Set
with Bag
Mat + Pillow + Mini + Big Bag
After 30 days of regular usage, our customers agree
97%
Reduced back tension
95%
Improved sleep
93%
Boost of energy
90%
Became less stress exposed
70%
Fully got rid of back pain
83%
Decreased level of tiredness
80%
Rarely have headaches